Moringa Supplements Market: Introduction
A recent study published by Transparency Market Research on the global market for moringa supplements includes North America, Latin America, Europe, South Asia, East Asia, Oceania, and Middle East & Africa industry analysis and opportunity assessment for 2021-2031. With the highest market value share of 33.9%, revenue generated from the Europe market is valued at US$ 459.8 Mn in 2021, and is expected to rise at a value CAGR of 7% to reach US$ 902.1 Mn by 2031.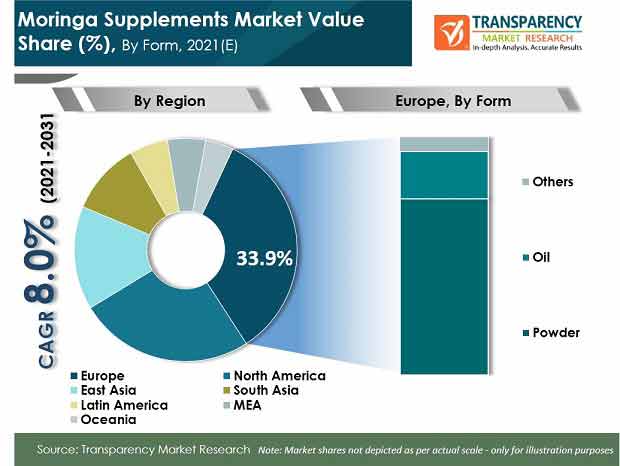 Request Sample of Report – https://www.transparencymarketresearch.com/sample/sample.php?flag=S&rep_id=83677
Inexpensive Moringa Cultivation to Attract More Market Players
The moringa plant is an economical plant, as the plant's seeds, leaves, and roots are all used for making supplements. Manufacturers utilize most part of the moringa plant for making supplements, which reduces wastage. Therefore, it is known as the "wonder tree".
Moreover, moringa plants need low maintenance, as they can grow in drought-prone areas. According to a study conducted by leading scientists, it was found that moringa farms incurred an expense of US$ 0.013 to accrue a benefit of US$ 0.040, i.e. approximately more than 200% of the investment.
India, a native producer of moringa, cultivates 2.2 million tons of moringa fruit from 43,600 ha, which leads to a productivity of around 51 tons per ha, which is likely to grow due to technological advancements and the low maintenance needs of the moringa plant
Health Benefits Offered by Moringa to Drive Market Growth
Moringa supplements are derived from moringa plants, which belong to the monogeneric family moringaceae, and known for the nutritive value of their pods, leaves, and seeds. Moringa twigs, leaves, stems, and seeds are rich in protein content. Additionally, moringa supplements are a good source of vitamin A, vitamin B, and C, and minerals such as iron.
Moreover, it has been found that moringa supplements contain more vitamin A than carrot, more calcium than milk, more iron than spinach, more vitamin C than oranges, and more potassium than a banana, and are, therefore being consumed for general weakness, malnutrition, menopause, depression, osteoporosis, and other diseases. Lactating mothers are also significant consumers of the product.
According to the Food and Agriculture Organization of the United Nations, moringa is considered as a plant used for its nutritional value and medical benefits, and can be also be used in ingredient applications
Make an Enquiry before Buying – https://www.transparencymarketresearch.com/sample/sample.php?flag=EB&rep_id=83677
Use of Moringa in Manufacturing Sports Nutrition Products to Offer Growth Opportunities
Supplements are essential for athletes to increase their performance, and fast recovery from fatigue and injury. Although athletes need natural foods, supplements such as moringa supplements are still valued highly for the added boost they provide in terms of nutrition.
Moringa supplements contain antioxidants and prevent damage to muscle tissue, liver, and blood, which directly improves the athlete's performance and fitness.
K V Natural ingredients Pvt. Ltd. is among the leading companies offering sports nutrition products made of moringa
Untapped Potential in Global Market to Augment Sales of Moringa Supplements
Moringa is a native plant in South Asian countries, and is majorly planted in India, Pakistan, Sri Lanka, and other countries in the region. However, the demand for moringa supplements is global, creating vast potential for local manufacturers of the supplements, and growers of the plant.
The expansion of the moringa supplements market globally will help companies generate more revenue from untapped markets, as moringa is considered a superfood and is high demand globally.
The Himalaya Drug Company has observed the demand for moringa supplements and has created a presence in 6 major regions, including North America, Latin America, the Middle East, South Asia, East Asia, and Europe.
Request for Covid-19 Impact Analysis – https://www.transparencymarketresearch.com/sample/sample.php?flag=covid19&rep_id=83677
Global Moringa Supplements Market Segmentation
Moringa Supplements Market by Nature
Moringa Supplements Market by Form
Moringa Supplements Market by Source
Moringa Supplements Market by Sales Channel
Hypermarkets/Supermarkets
Convenience Stores
Specialty Stores
Online Retail
Moringa Supplements Market by Region
North America
Latin America
Europe
East Asia
South Asia
Oceania
Middle East & Africa
More Trending Reports by Transparency Market Research –
Frangipani Extract Market  – https://www.transparencymarketresearch.com/frangipani-extract-market.html
Maqui Berries Market  – https://www.transparencymarketresearch.com/maqui-berries-market.html
Rose Extract Market  – https://www.transparencymarketresearch.com/rose-extract-market.html
Capsicum Oleoresin Market  – https://www.transparencymarketresearch.com/capsicum-oleoresin-market.html
Wine Fining Agent Market  – https://www.transparencymarketresearch.com/wine-fining-agent-market.html
About Us Transparency Market Research
Transparency Market Research, a global market research company registered at Wilmington, Delaware, United States, provides custom research and consulting services. The firm scrutinizes factors shaping the dynamics of demand in various markets. The insights and perspectives on the markets evaluate opportunities in various segments. The opportunities in the segments based on source, application, demographics, sales channel, and end-use are analysed, which will determine growth in the markets over the next decade.
Our exclusive blend of quantitative forecasting and trends analysis provides forward-looking insights for thousands of decision-makers, made possible by experienced teams of Analysts, Researchers, and Consultants. The proprietary data sources and various tools & techniques we use always reflect the latest trends and information. With a broad research and analysis capability, Transparency Market Research employs rigorous primary and secondary research techniques in all of its business reports.
Contact 
Rohit Bhisey
Transparency Market Research Inc.
CORPORATE HEADQUARTER DOWNTOWN,
1000 N. West Street,
Suite 1200, Wilmington, Delaware 19801 USA
Tel: +1-518-618-1030
USA – Canada Toll Free: 866-552-3453
Email: sales@transparencymarketresearch.com
Website: https://www.transparencymarketresearch.com